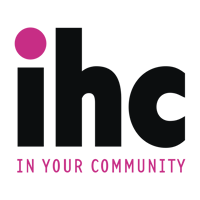 IHC New Zealand
Case Study
BACKGROUND
IHC was founded in 1949 by a group of parents who wanted equal treatment from the education and health systems for their children with an intellectual disability. They lobbied for community-based support services for their children as an alternative to large state-run institutions. Today, IHC is New Zealand's largest provider of services to people with intellectual disabilities and is unique among service providers in that it has retained a strong advocacy focus as part of its core business.
The IHC volunteer programme was established in 2006 and has grown over time to become a central part of IHC's charitable activities. The opportunity to develop a volunteer programme stemmed from people with intellectual disability expressing a desire for a non-paid, non-family member companion in their lives – simply put, they yearned for a friend.
The IHC friendship programme is about volunteers and their friend being matched based on their shared interests. It is one-to-one and not a group activity. The programme is available throughout New Zealand, and, in regions where a dedicated volunteer coordinator isn't present, applicants are directed to the i-Volunteer initiative, which emerged in response to the COVID-19 lockdowns. This initiative operates fully online, bringing friends together for virtual games, visits to museums, chats, and even strolls in virtual parks.
Sue Kobar, the National Manager of Volunteering and Community Development at IHC, along with Jane Peoples, the Volunteering and Community Development Database Administrator, explain that prior to transitioning to Better Impact's software solutions, IHC's friendship programme mainly relied on Google Docs and Volgistics for volunteer management, prior to switching to Volunteer Impact. On the other hand, the Family-Whanau programme – which involves community liaisons connecting families with necessary services – initially utilised Excel spreadsheets and later adopted Clarety, before ultimately making the switch to Member Impact.
CHALLENGES
The defining moment that prompted IHC to initiate system changes arose when the Volunteering and Community Development department experienced a significant increase in the number of programmes to oversee. This motivated them to step up their technology game and implement a new volunteer management software (VMS) solution.
Sue and Jane explain that although they were content with their previous VMS, certain improvements were needed to achieve incremental gains.
🗝️ Key Pain Points:
Security of data
Time spent on administrative tasks such as throughout the application process
Communication
Data accuracy


"We were looking for a system that met the IHC security requirements and would provide accurate data from a national and regional level."
- Sue Kobar, National Manager
JOURNEY
When Sue joined IHC in 2012, volunteer coordinators were utilising five Google Docs spreadsheets, and data entry was rather repetitive. Back then, IHC began exploring other options, and they selected Volgistics. Sue recalls, "I had used Volgistics before and opted for something that I knew."
Although Volgistics was up and running in 2019, the team began exploring a move away from it in search of an alternative VMS as part of a national streamlined database. "There were a number of functions not available to us in Volgistics and we needed to investigate this further," recalls Sue.
The selection of a VMS involved a team of individuals, including Sue as the National Manager of Volunteering and Community Development, Volunteer Coordinators, team leaders, members of the IT Department, and a Communications web specialist, who explored three different VMSs; one of them was Volunteer Impact.
A needs assessment was conducted by Sue in collaboration with the Volunteer Coordinators. They also held peer discussions with colleagues from other organisations who were using various data collection methods.
In 2020, IHC selected the Enterprise Edition of Volunteer Impact, which Sue praises as empowering them to "split Volunteering and Community Development into two subaccounts; thereby permitting administrators who oversee certain programmes to only access their programme and volunteer data while allowing me, as National Manager, to access and oversee all the subaccounts."
Why Volunteer Impact
Sue and Jane list some reasons that led to the selection of Volunteer Impact:
The ability for volunteers to independently log their hours is a fantastic feature.
The increased reporting options
The Enterprise Edition of Volunteer Impact supports IHC's national structure and allows for varying customisable levels of administrative privileges.
Various communication features (emailing and email templates, texting, news/birthday/personal messages, etc.)
An app for volunteers to manage their engagement with IHC


"Both Volunteer and Member Impact provide features and functions that help us save time such as the online application process, holding of documents, and methods of communication."
- Sue Kobar
Implementation
When describing IHC's implementation process, Sue highlights that "one of the volunteer coordinators was seconded 20 hours a week to complete the transition and it was incredibly helpful having one designated person to oversee the implementation process and maintain communication." The team's preference for visual learning was leveraged when engaging with other organisations already using Volunteer Impact. Furthermore, the presence of a built-in software tutorial proved highly beneficial for new staff members getting familiar with the system.
Reflecting on their experience, Sue and Jane concur that they wouldn't do anything differently.


"We are still adjusting to how we use the system to ensure we get the very best from it. We are transitioning to being paperless soon and once we have all files uploaded and the 'new' systems/processes for the team fully in place, time will be saved with everything in one place."
– Sue Kobar
Results
Transitioning to two of Better Impact's software solutions – Volunteer and Member Impact – has been a journey worth taking for IHC.
Sue and Jane have the following noteworthy experiences to share:
Volunteer Coordinators have found Volunteer Impact to be exceptionally user-friendly and is well-received by volunteers.
A transition to becoming paperless by the end of 2023 is underway, which will centralise files and streamline processes; ultimately saving time.
Notably, communication, information sharing, and news dissemination between coordinators and volunteers have become more effective.
Staff can efficiently access programme and volunteer stats through the variety of built-in and customised reports.
The Volunteer Status screen at the Enterprise level offers an excellent instant overview of the status of all volunteers across all subaccounts (e.g., Applicants, In Process, Accepted, Inactive; and Archived).
Sue emphasises, "there was excellent support available in setting up the software to suit our programmes."
As our programme requirements have changed, we have been able to adapt Volunteer and Member Impact to suit our needs by adding new custom fields and qualifications as we move more of our programme online.
This has created the opportunity for IHC to gather the precise data needed for their reporting efforts and use that data to further develop their programmes and understand the impact of them too.


"Moving to an online management solution is magical and it isn't until you make that decision that you fully understand how much time is saved."
- Sue Kobar